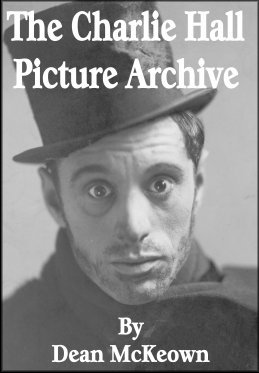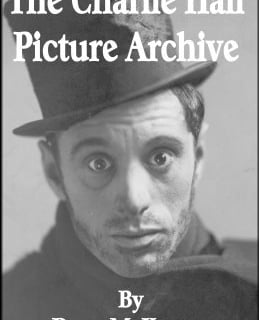 The Charlie Hall Picture Archive is a unique book for all fans of Charlie Hall and Laurel and Hardy. The book features over two hundred and ten images, many of which have never been published and has sections covering Charlie Hall, his family and the places they visited, his cars, the studio set up in Hollywood (with a section dedicated to Hal Roach) and the stars of the time (including Mary Pickford and Mabel Normand). There are numerous mini biographies of Charlie's co-stars and the book closes with a sixty five page chapter relating to Charlie Hall's film stills with in depth synopsis of some of his films. Where possible Charlie's own words have been used.
The book is slightly smaller than A4, has 178 pages in total and close to 17,000 words. The book was written by Dean McKeown and edited by Maria Cairney, the foreword was written by Willie McIntyre.
Contents
Foreword xi
1. Introduction page 1
2. Charlie Hall page 4
3. Meet The Family page 15
4. A Man And His Cars page 37
5. Out On Location page 44
6. Studios And Stars page 71
7. Charlie's Film Stills page 95
8. Filmography page 161
9. Appendix page 165
The Charlie Hall Picture Archive 2009 © Dean McKeown. All rights reserved
www.charliehallpicturearchive.com
Book cover designed by Dean McKeown
No part of The Charlie Hall Picture Archive book may be reproduced or transmitted in any form or by any means, electronic or mechanical, including photocopying or recording, or by any information storage and retrieval system, without permission in writing from Dean McKeown.
The Charlie Hall Picture Archive was printed in the United Kingdom.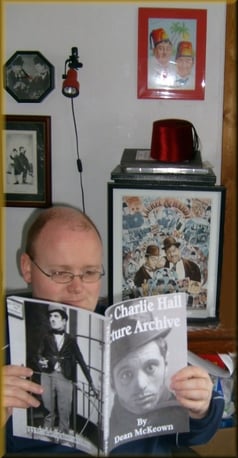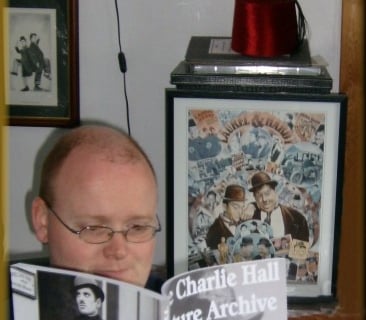 If you have any comments regarding The Charlie Hall Picture Archive or would like to submit a review of the book the please get in touch.
Reviews
Dean, your book is really smashing! A must have for everyone interested in Laurel and Hardy Land! The pictures are all stunning and fascinating, it's hard to put this book down. A job more than well done. Bravo!
Lois Laurel-Hawes
I don't think I am overstating the case when I say that this is one of the most exciting books ever to have been written by a Son of the Desert. There has never been anything quite like this before! Very skilfully compiled by Dean McKeown, it takes you right into Charlie's personal life and work in a way which leaves you feeling you have finally got to know that little chap from Birmingham.
Willie McIntyre, author of The Laurel and Hardy Digest and Bowler Dessert Magazine.
Dean McKeown's "The Charlie Hall Picture Archive" is a well written visual masterpiece. I can't imagine any admirer of Laurel and Hardy being without this work....The book makes the reader feel close to Charlie's career and illustrates the expression "pictures are worth a thousand words."
Part of Roger Gordon's excellent review in the Intra-Tent Journal, issue 133, Summer 2009
'Laurel and Hardy fans will devour and enjoy The Charlie Hall Picture Archive. It is the next best thing to having known the diminutive chap from Birmingham, England, the one who advertised himself in casting directories as "(Little) Charles Hall." He did so in order to distinguish himself from the similarly British-born art director and production designer Charles D Hall. Evidently the two men were even born the same year. Besides the illustrations in Dean McKeown's book, and Charlie Hall's own captions for them, I enjoyed the text. I learned some things I did not know, giving a better sense of who this man really was. And right when so many of us believe there are no more Laurel and Hardy still photos yet to be unearthed, more surface. It seems there are always more to discover - a good thing!'
Richard Bann on the Official Laurel and Hardy Website
Thank you very much for dedicating all this time and energy in one of the most popular colleagues of the Boys.
Peter van Rooij
This is a lovely book, well presented and beautiful photographs of Charlie and his family, as you go through this book, you get to feel the love and hard work that went into producing this wonderful 'Diary' of Charlie's life, because that's what it's like, a Diary in Charlie's own words ! Also, the research that Dean has put into this work, (for example) finding a copy of the passenger manifest going through Ellis Island ! Couldn't have been easy! All these little extras help to form a wonderful compilation of Charlie's early life in America, and becoming a great 'Foil' for the 'Boys'. Thank you Dean, We are Indebted to you for this long overdue account of one of the great co-stars of L. & H.
John Bogie
Many thanks for letting us share a truly remarkable piece of history- and a thoroughly good read.
Bill Crouch
Despite a list of acting credits as long as your arm, Charlie Hall is not a name that is instantly recognisable to any but the most ardent classic film fans. Born in Birmingham, England in 1899, Hall emigrated to America in his twentieth year. As a trained carpenter he found work behind the scene in New York film studios before eventually finding himself in front of the camera. Today he is best remembered for his appearances as a foil to the ever popular Laurel and Hardy during their heyday at the Hal Roach film studios in the 1930s.

It is to Laurel and Hardy fan Dean McKeown's credit that, when he purchased a batch of photographs from the person collection of 1930s character actor and comedian Charlie Hall, he felt no desire to horde historic artefacts to himself. Instead he immediately set to work assembling this book as a means of sharing the images with interested parties world wide. Hundreds of photos are presented uncropped in this 170-page, large format soft-back book and are given context by Dean's well researched text.

Beyond simply collecting film stills (although there are many fine examples of these), The Charlie Hall Picture Archive delves into the actors personal snaps. Many of the photographs were taken during a visit from his mother, who still lived in England. Mother Hall was given a full tour of her son's new home and fans of classic Hollywood film making are bound to pleased with the visual record of the city that has been preserved in these informal snaps. The fact that Hall kept such a detailed record of her visit perhaps hints to the fact that he regretted not seeing her more during his adult life and the book is all the more worthwhile for this kind of insight.
Andrew Smith
I must say The Charlie Hall Picture Archive is very professionally put together. The photos are astounding, especially those of Charlie by his dressing room, in Stan's garden and so many others - and to see his comments in his own writing - stunning. It is a remarkable and attractive book. What a treasure of information this book is. I always wondered about co-stars like Charlie and what their lives were like and you have created the definitive source for just that. You really put your heart and soul into this.
Mike David
WOW, let's have a book like yours about every Laurel and Hardy co-star!!! Congratulations, I haven't read it completely yet but of course I've seen every single page and photo! The photo on page 135 is from the 1933 short comedy 'In the Dough' with Dougie Wakefield and Billy Nelson. The photo on page 145 is from the 1932 short 'The Soilers' directed by George Marshall.
Harry Hoppe