A NUTTY NUT NEWS NETWORK EXCLUSIVE
Ronnie Hazlehurst Interview
By Steve Wichrowski, Jr.
Text by Mike David
Here are two brief but insightful audio interviews with the popular composer and conductor, the late Ronnie Hazlehurst. Well known for his theme tunes for numerous British sitcoms, these interviews concentrate on Ronnie's Laurel and Hardy connection.

We'll hear Ronnie talk about how he met with Hal Roach Studio's musical director Marvin Hatley to straighten out copyright issues related to Laurel and Hardy background music. He also discusses how he worked on the then recent "Laurel and Hardy Music Box, Volume Two".

Before concluding, Ronnie reveals his official title with BBC Television.

The two interviews were taped in 1984 and 1990 by the Nutty Nut News Network Show's roving reporter, Steve Wichrowski, Jr.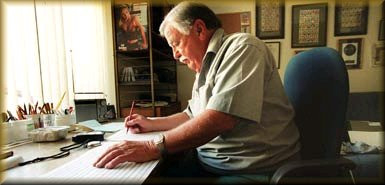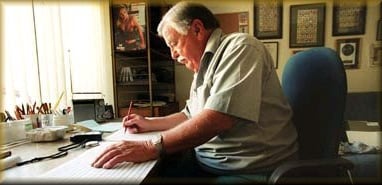 From The Times
October 3, 2007
Ronnie Hazlehurst
Composer of theme tunes for many of Britain's best-known sitcoms

Ronnie Hazlehurst's music will forever be associated with the heyday of the British sitcom. It has been described unkindly by its critics as "plinky plunky", "fiddly twiddly" and "an aural dot-to-dot". Writers on sport or politics have been known to sum up particularly silly mishaps by stating that they lacked only a Ronnie Hazlehurst soundtrack. The satirical puppet show Spitting Image once featured the Hazlehurst Requiem: "My soul doth magnify the Lord (tiddley-pom) / And praise my salvation (dum dum)". But if his work lacked gravitas, it more than made up for it in memorability; it persists in the subconscious of everyone who grew up watching television in the 1970s and 1980s.

Born in Manchester, Hazlehurst first tried to make his living as a trumpet player, and after some session work for the BBC in London he joined the corporation in 1961 as an arranger and conductor, eventually becoming Light Entertainment Musical Director.

He first created incidental music for The Likely Lads and The Liver Birds, and a tune for It's a Knockout. He worked often for small fees, greater responsibility arriving relatively late in 1971 when he took charge of the orchestra for The Two Ronnies.

Over the next 15 years he composed theme music for many of the programmes that comprised the golden age of British situation comedy, including Are You Being Served?, Just Good Friends, To the Manor Born, Yes Minister, Sorry! and Three Up, Two Down. He arranged themes for other artists, including that to Carla Lane's Butterflies (1978) and Only Fools and Horses (1981) for John Sullivan.

Hazlehurst worked in other areas of light entertainment, too, writing in 1977 one of his most memorable and, to many, irritating, television themes — for Blankety Blank, hosted first by Terry Wogan. In 1982 he wrote the theme music for the Wogan chat show.

Hazlehurst insisted that there was no particular genius to his composing; he said he would merely sing the show's title to himself and then transcribe the results. It could turn out to be subtly subversive: in 1973 the BBC complained that his composition for Last of the Summer Wine sounded nothing like a comedy theme: could he not at least speed it up? There was no time for a rewrite, however, as the programme was due to air two days after the music was delivered. The show became the longest-running comedy on British television, and the theme tune probably the best-loved of all Hazlehurst's creations. Similarly, the theme for The Fall and Rise of Reginald Perrin (1976) dips and ascends at the appropriate parts of the phrase as it would if the title were sung, so that it seems, by itself, strangely serious.

Some Mothers Do 'Ave 'Em (1973) broke his writing pattern, as the producer Michael Mills insisted on a minimalist theme that would spell out the programme's name in morse code. Hazlehurst was allowed only a piccolo, but after negotiation was allowed two. Only when Sydney Lotterby took over for series three was a tuba added to this extraordinarily sparse composition. Hazlehurst, who was paid just £30 for his trouble, seemed to thrive on the tight deadlines and scarcity of cash that pervaded his profession in the 1970s. "By the time the filming was done, there was nothing in the budget left for music," he explained.

Hazlehurst had a long association with the Eurovision Song Contest, on which he served as Britain's musical director three times. In 1977 he conducted both the German disco troupe Silver Convention and the British entry, Lynsey de Paul and Mike Moran, performing Rock Bottom. Dressed in a bowler and conducting with a brolly, Hazlehurst helped the duo to second place. He also saw silver with Scott Fitzgerald (1989), Live Report (1989) and Michael Ball (1992). He conducted seven British entries and helped to build up a record for best overall results of any country. Britain's success ended after Katrina and the Waves won the contest in 1997. Today interest in the contest has, like the points tally, dropped away sharply. The British sitcom has arguably experienced a similar decline.

In 1999 Hazlehurst received a gold badge award from the British Academy of Composers and Songwriters.

He moved from Hendon to Guernsey ten years ago.

He is survived by his partner, Jean Fitzgerald, and by two sons from his second marriage.

Ronnie Hazlehurst, musician and composer, was born in 1928. He died after a stroke on October 1, 2007, aged 79.