A NUTTY NUT NEWS NETWORK EXCLUSIVE
Shirley Jean Rickert Interview
By Guido Cipriani and Mike David
Text by Mike David 2009
The audio is introduced by From Soup to Nuts Grand Sheik Guido Cipriani, founder of the Nutty Nut News Network Show. In looking through our files I noticed this was our first ever interview. Amusingly, when Guido did the tape transfer it accelerated the speed such that our voices sound higher than normal.
Shirley was very pleasant that evening and happily discussed her film experiences beginning with the 1930 comedy short "How's My Baby" with vaudeville actor T. Roy Barnes. She recalled going to school on the Our Gang sets and we were able to jog her memory of 1931s "The Stolen Jools".
You'll also hear Shirley talk about her appearances in the Mickey McGuire series and how she enjoyed working in such films as "Neath the Arizona Skies" in 1934 with veteran actor John Wayne and as a chorus girl in "Singing in the Rain".
Our interview was conducted after a meeting of the Night Owls Tent of the Connecticut Valley headed by the popular Grand Sheik Hal Stanton.
Very few people have heard it since in 1984 the Nutty Nut News Network Show was in its infancy and only a few tents traded audiotapes.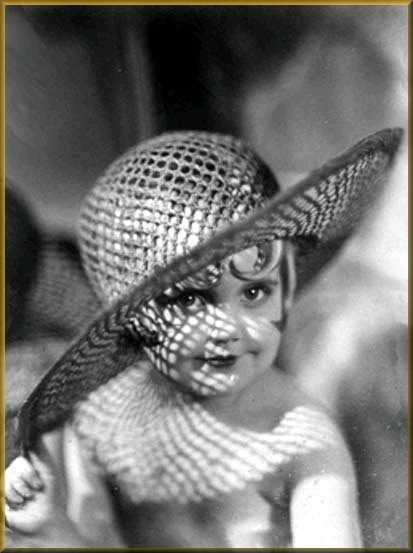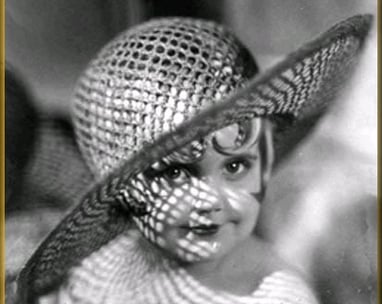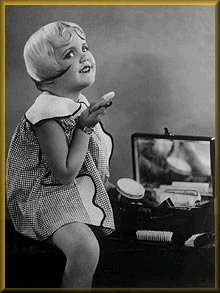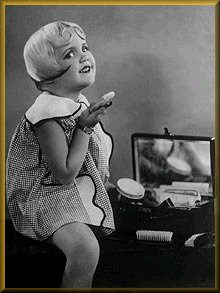 Gilda and Her Crowning Glory
"Born Shirley Jean Rickert, this blond bombshell began her show biz career at the tender age of three when she appeared in her first Hollywood picture. Then it was on to the Hal Roach "Our Gang" comedies as the little vamp in the platinum pageboy. It was in one of those comedies she got her first taste of Burlesque, when in 1931 she and Stymie did a version of the "Watt Street" sketch. As a child actor she worked in films starring with John Wayne and Joan Crawford. As she grew and "blossomed" into more adult roles she danced in such films as Best Foot Forward, Good News, Royal Wedding, and the immortal classic Singing in the Rain. When musicals went out of favor what was a young, vivacious dancing girl to do? Well, this one went down to "The Follies" Burlesque house in Hollywood and trained with Lillian Hunt, the mentor of Tempest Storm and others. Then with gold tresses flying she toured the U.S and Canada in Burlesque.Eventually playing the at top name in Burly-Q, Minsky's."
This was from the now defunct site eebell net/ burlesque/ dancers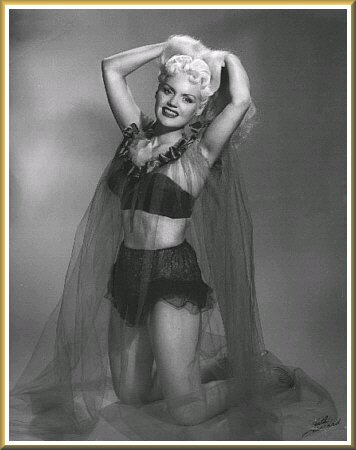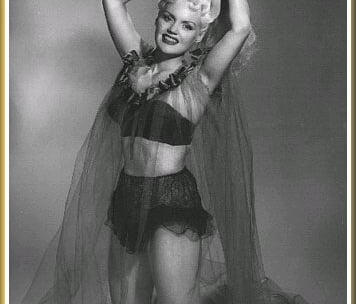 (Back row): Lee Aaker, Ralph Hodges, Harry McKim, Robert Scott, Brett Halsey and David Hedison. (Seated): Suzanna Leigh, Gloria Marlen, Shirley Jean Rickert, Joan Evans, Jean Porter and Jacqueline White. (Front row): Dallas McKennon and Gary Gray
Photo courtesy of Tom Wyatt.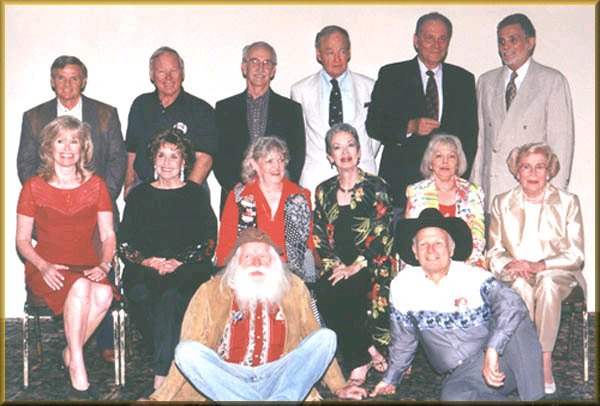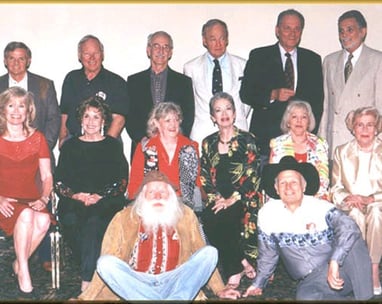 Shirley Jean Rickert Obituary
Published: 19 Feb 2009, THE TELEGRAPH
Shirley Jean Rickert dies at 82; child star of 'Our Gang' comedies
LA TIMES by Dennis Mclellan
Shirley Jean Rickert, a former child actress who was the cute little blond with the spit curls in "Our Gang" comedies in the early 1930s and later became a long-haired burlesque stripper known as Gilda and Her Crowning Glory, has died. She was 82.
Rickert, who in recent decades went by her married name of Measures, died Friday after a long illness in a nursing home in Saratoga Springs, N.Y., said her daughter, Melody Kennedy.
Born in Seattle on March 25, 1926, Rickert won a local baby beauty contest when she was 18 months old. Her mother, confident she had a budding star on her hands, eventually moved the family to Hollywood.
Rickert was 4 when she went for an interview for a part in an "Our Gang" comedy short at the Hal Roach Studios.
She was in five "Our Gang" comedies in 1931, appearing with Jackie Cooper, Bobby "Wheezer" Hutchins, Matthew "Stymie" Beard, Allen "Farina" Hoskins, Norman "Chubby" Chaney and other pre-Spanky and Alfalfa gang members.
They were all "just kids playing together," Rickert told the Albany Times Union in 1999.
"We had fun," she said. "The mothers on the other hand, were awful. Stage mothers are just vile women, including my own."
Stardom, she said, was her mother's dream, "but it wasn't mine."
She left the "Our Gang" troupe to do the competing Mickey McGuire comedy series starring Mickey Rooney.
Playing Tomboy Taylor, Rickert appeared in five of the McGuire comedies in 1933 and '34.
She also donned a black wig to play a young half-Indian oil heiress in the 1934 John Wayne B-western " 'Neath the Arizona Skies."
But stardom eluded her.
She spent the rest of the '30s playing bit parts. And in the '40s and early '50s, she was an uncredited dancer in a number of movie musicals, including the MGM classics "Royal Wedding" and "Singin' in the Rain."
Rickert then became a burlesque dancer.
With flowing blond hair down to her waist, she was dubbed Gilda and Her Crowning Glory by her manager. She performed in burlesque theaters and nightclubs across the United States and Canada in the 1950s.
When the old "Our Gang" comedies resurfaced in television syndication in the mid-'50s as "The Little Rascals," Rickert found that her "Our Gang" stint gave her a certain off-stage cachet.
As she later wrote in response to an e-mail from a Detroit fan to her website: "Detroit was one of the towns where I would appear on a kiddie TV show on Saturday morning as Shirley Jean of the Our Gang/Little Rascals and disrobe on stage at night for the little kiddies' parents."
But stripping then was much different than today, she told the Albany Times Union in 2005.
"I see more flesh in television commercials today than I used to see in burlesque," she said.
After quitting burlesque in 1959, Rickert worked a variety of jobs, including bartender, secretary and sales director for a regional theater in Springfield, Mass.
While living in Connecticut in the mid-'70s, she launched a long career as a traveling industrial hardware saleswoman, for whom her "Our Gang" tenure proved to be an ideal entree for making sales.
"I walk in, and they say, 'Not another nuts and bolts salesman,' " she told the Associated Press in 1993. "And then I open my sales folder and show them an 8-by-10 of me in 'Our Gang.' I say, 'You grew up with me.' Then they do a 360."
But, she said: "That was way back then, and this is now." She was, she said, "very happy with my life the way it is."
In addition to her daughter, the twice-divorced Rickert is survived by two grandsons and two great-grandchildren.