A NUTTY NUT NEWS NETWORK EXCLUSIVE
Trudy Marshall Interview 1990
by Scott MacGillivray
Text by Mike David
Actress Trudy Marshall, the leading lady in Laurel and Hardy's 1943 effort, "The Dancing Masters", talks with Laurel and Hardy author Scott MacGillivray about how she got her start in films and how her work as a photographic model led to film roles.
Finally, Scott amusingly describes his surprise first meeting with Miss Marshall.
Recorded at the Sons 1990 International Convention in Clearwater, Florida.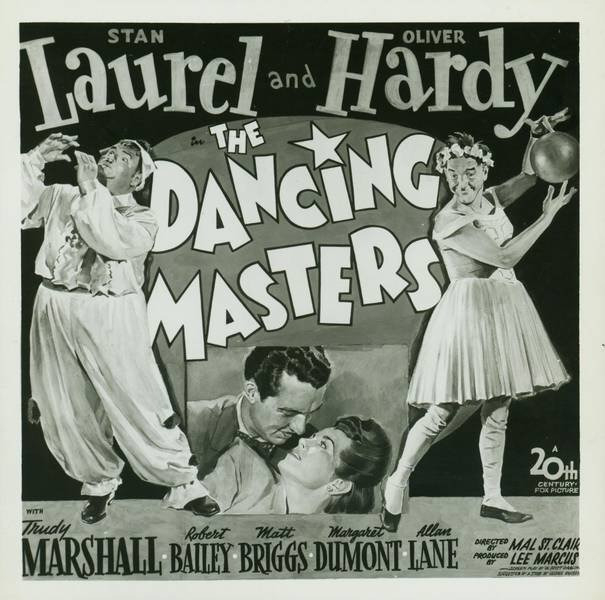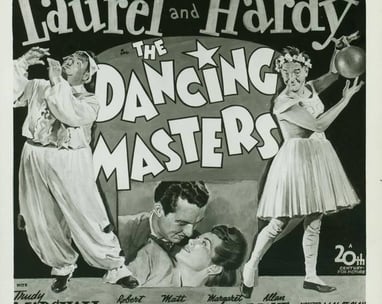 Trudy Marshall
Photographer's model turned actress
by Tom Vallance, The Independent, June 14th,2004.

Gertrude Marshall, actress and model: born New York 14 February 1920; married 1944 Phil Raffin (died 1982; one son, two daughters); died Los Angeles 23 May 2004.

Trudy Marshall was a photographer's model who became a popular film actress of the Forties and played leading lady to Laurel and Hardy in The Dancing Masters (1943).

While under contract to 20th Century-Fox, she appeared in such popular films as The Dolly Sisters (1945) and Sentimental Journey (1946), and made a strong impression as Genevieve Sullivan in The Sullivans (1944), the true story of a family that lost all five of its sons in the Second World War. The mother of the actress Deborah Raffin, she returned to the screen in the Seventies to appear in her daughter's films The Dove and Once is Not Enough.

Born Gertrude Marshall in Brooklyn in 1920, her only dramatic training came at Floral Park New York High School. Her father submitted her photograph to a newspaper talent and beauty contest and, although she came second, the publicity resulted in work as a model, both in advertising and in illustrated dramas for such magazines as True Romance. Represented by Harry Conover, a top agent for fashion models, she was labelled "The Typical American Girl". In 1941, Look magazine sent Trudy and another model to Hollywood to tour the Fox studios and meet the stars for a photographic spread in the magazine. The two were also given screen tests, and Trudy was awarded a long-term contract.

While attending the studio's dramatic school, she made her screen début as an extra in Dance Hall (1941), but she had her first speaking role in Orchestra Wives (1942). Realising that she looked especially good in Technicolor, Fox gave her roles in the musicals Springtime in the Rockies (1942), Coney Island (1943) and The Gang's All Here (1943), as well as Crash Dive (1943, as a telephone operator) and Ernst Lubitsch's delightful Heaven Can Wait (1944, as Don Ameche's daughter-in-law).

She was finally given a leading role, and top billing, in the B movie about girls with government jobs Ladies of Washington (1944). Then came The Sullivans, the heart-breaking true story of a family who lost all five sons on a cruiser sunk near Guadalcanal - the incident caused the navy to set a ruling that never again should all the members of one family be assigned to the same ship. Marshall's "All-American" persona was perfect for the role of the sister who enlists in the navy after her brothers' deaths.

Marshall recently said that one of her happiest experiences was working with Laurel and Hardy in The Dancing Masters. The comedy team became very fond of her, and, although the cast list shows her name as "Mary", they refer to her as "Trudy" throughout the film.

For some time Marshall had been going out with Phil Raffin, the owner of a Beverly Hills restaurant, and in December 1944 they were married, despite the objections of the studio chief Darryl F. Zanuck. According to Marshall, this ended her chance of major stardom. She told the historian Colin Briggs last year,

Fox and Mr Zanuck liked to have their up-and-coming players single. The publicity department arranged dates for them and for the press to record those dates in fan magazines and newspapers.

Marshall had been set to co-star with Fred MacMurray and June Haver in the musical Where Do We Go From Here? (1945), but instead Zanuck borrowed Joan Leslie from Warners to fill the role, and gave Marshall a brief role as the wife of a captured airman (Dana Andrews) in The Purple Heart (1945).

She then appeared in two of the most popular Fox films of the era. In the lavish show-business biography The Dolly Sisters (1945), she was the society fiancée of a composer (John Payne) who nobly withdraws from the scene when she realises that he is in love with Jenny Dolly (Betty Grable). In the enormously popular weepie Sentimental Journey (1946), she was an actress working with a playwright (John Payne again) whose wife (Maureen O'Hara) has a weak heart. Marshall then moved to Columbia, where she was given leading roles in several B movies.

Marshall was one of several glamorous ladies who supported Red Skelton in the hit comedy The Fuller Brush Man (1948), co-written by Frank Tashlin and one of Skelton's finest films. She was a gamekeeper's daughter in Mark of the Gorilla (1950), which starred Johnny Weissmuller as Jungle Jim, and was the fun-loving girlfriend of the composer Walter Donaldson (Frank Lovejoy) in Michael Curtiz's superior musical I'll See You in My Dreams (1951). The studio had wanted their contract player Sheila Stephens (the wife of Gordon MacRae) to play the part, but Curtiz insisted on Marshall. Though the studio acquiesced, Marshall was not given billing.

After playing Susan Hayward's younger sister in The President's Lady (1952), she gave birth to her third child, Deborah, and retired to bring up her family. Occasionally she worked in television, and she had a good role in the film Full of Life (1956) as Judy Holliday's neighbour and friend.

Deborah Raffin, with her mother's coaching, followed the route from fashion model to actress, making her screen début as Liv Ullman's daughter in 40 Carats (1973). When she starred in The Dove (1974) and Once is Not Enough (1975), Marshall had cameo roles in both films.

In 1982 Phil Raffin died, by which time Trudy Marshall was a grandmother with a close and supportive family. She resided in a Beverly Hills mansion and was active in charity work, serving as president for the Smart Set, which sells clothes and accessories donated by stars for the benefit of the Motion Picture and Television Home.